Pass the Salt and Pepper Crab!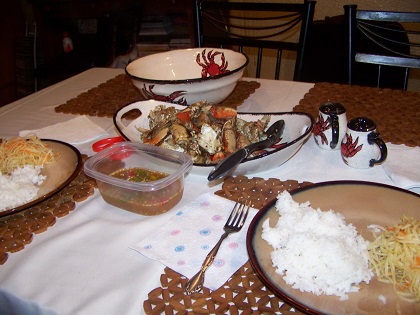 This Salt and Pepper Crab recipe from Cynthia Nims Northwest Homegrown Cookbook Series "Crab" is based on a signature dish from Seattle's Flying Fish Restaurant.
After talking to one of our Facebook fans about this recipe, I knew I had the recipe and needed to give this a try! Cynthia writes, "It will have you delightedly slurping crab meat from its shells and licking your fingers." No kidding! This is now in our top favorites lists of Crab Meat Recipes! It is so good!
At the Flying Fish, the chefs first boil the live crab for just 4 minutes to kill it, and then clean the crab and reserve the crab butter for stirring into the stir-fry toward the end. You may certainly do the same if you like, but this recipe has been simplified starting with cleaned and portioned crab.
You can find the Szechwan pepper in a specialty spice market. We found ours at an Asian market.
Also, if there are two or more that will be eating, you will want to double or triple the recipe for stir fry, but not necessary for the Nam Pla Prik sauce as it makes quite a bit and we had a lot left over as we tripled our recipe for the Salt and Pepper Crab.

Also, if I might add, I know the recipe calls for Dungeness Crab, but I wouldn't hesitate to try this recipe with Blue Crab...
Ingredients:

1 teaspoon-Kosher Salt
1 teaspoon-freshly Ground Black Pepper
1 teaspoon-lightly crushed Szechwan pepper (you can find this at a local Asian Store)
1/4 cup-Peanut Oil or Vegetable Oil
1 Dungeness Crab, cleaned and portioned, shells lightly cracked
Nam Pla Prik:
1/4 cup-Fish Sauce
1/4 cup-freshly squeezed Lime Juice
6 Thai Chiles, chopped
1 Clove-Garlic, minced
For the Nam Pla Prik sauce, combine the fish sauce, lime juice, chiles, and garlic in a small dish or bowl. Stir to mix and set aside. This can also be made ahead of time or even the day before you use it. Just put a lid on it and chill it. However, the longer it sits, the more it takes on the heat of the chiles!
In a small dish, combine the salt and pepper and Szechwan pepper and stir to mix.
Heat the oil on a wok or heavy skillet over medium-high heat until it is almost smoking. Carefully, add the crab pieces and stir-fry until the shells are bright red and meat turns translucent to opaque about 5 minutes. If using cooked crab, stir-fry until it is heated through, about 3 minutes. Sprinkle the crab pieces with the salt and pepper mix and continue stir-frying until it is evenly coated and they give off a slightly toasty aroma for about 1 minute longer.
Transfer the crab to a warmed serving platter and pour the Nam Pla Prik into serving dishes for dipping and enjoy!
Makes 2 servings.

Crab Meat Recipes          Crab Appetizers      Soups and Chowders       Crab-O-Licious Home
Back to the top of Salt and Pepper Crab