Thanksgiving Crab Recipes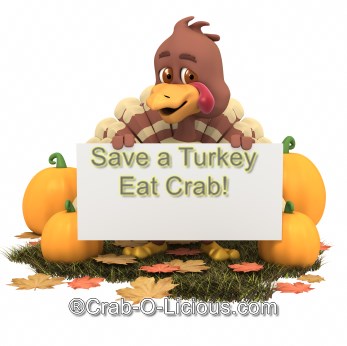 Here, we have Thanksgiving Crab Recipes for those who may be looking for ways to fold crab meat into your Thanksgiving dinner! Our own recipe for crab stuffing is the favorite (in my opinion) at our house!
Growing up in the mid-west, we're pretty set about having turkey as the main portion on our tables, but that doesn't mean, since we live in Dungeness country now, that we can't spruce things up a bit and make our dinner more elegant, flavorful and down right "delicious" by adding crab. If you're in Blue crab country, by all means, use Blue Crab! You're guests will thank you!
But, first, for those not wanting turkey, why not have Alaskan King Crab Legs?....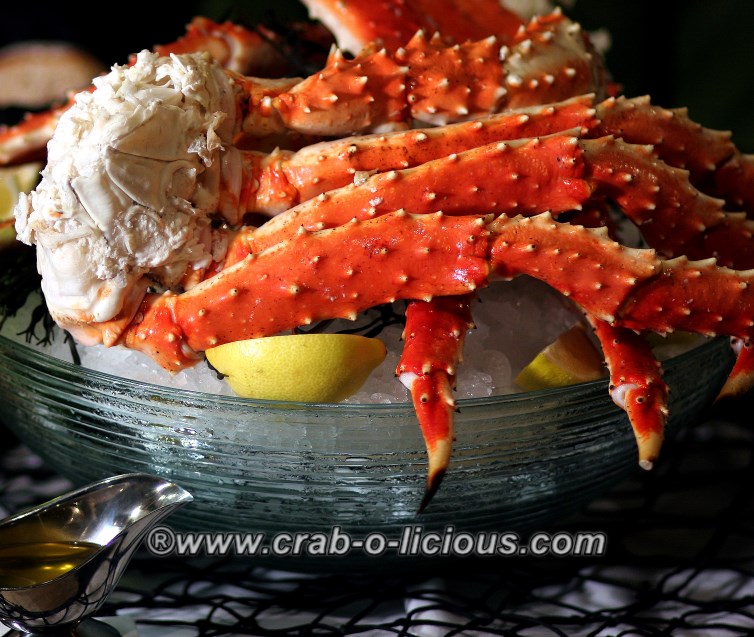 We have
Alaska King Crab Legs with 3 Dipping Sauces.
You can change the dipping sauces to your favorite ones, or, ask your guests which is their favorites and add them to the mix!
We have more King Crab Legs recipes, here, too, for more ideas.
How about adding a crab appetizer to your menu?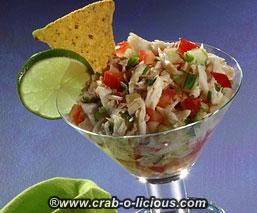 Crab Ceviche
makes for a great appetizer to hold you and your guests over until the rest of the dinner is ready! Divide it evenly into martini glasses to add an elegant touch!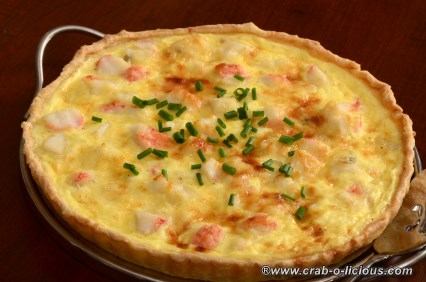 Crab Quiche
is a wonderful addition to any special occasion, for Thanksgiving Day, it's perfect! Why? You can make this ahead of time and heat it up in the morning in the microwave. You can even put this into small pie tins or muffin pans for personal servings and serve these first thing in the morning.
Crab Stuffing
All you need to make "Crab-O-Licious" crab stuffing is:
1 small onion or, if you prefer 3 green onions to add flavor and color, chopped finely
1 large celery stalk, finely diced
1 Tablespoon butter
Ready cubed stuffing or, go ahead and dry out a 1/2 loaf of whole grain bread, cube it down when it's dry
1/2 cup-dried cranberries
1 cup-baby spinach
2 cups-chicken broth or, better yet, boil the giblets from the turkey and add some chicken bouillon-make sure you have enough broth to add if it seems too dry
2 eggs, or just 2 egg whites if you're on a "health kick!"
1 pound of crab meat
Directions:
Saute' the onions and celery in the butter till tender, set aside.
In large mixing bowl, add the bread cubes, cranberries, spinach, and eggs and mix well.
Next, add the sauté onions and celery and blend well.
Next, pour the chicken broth in to coat and blend well, adding more broth till desired moisture and mix well.
Then, add the crab meat, gently folding in so you don't break up the lump crab meat. Stuff the bird and enjoy when done! Make sure you cook the turkey as directed for a stuffed turkey.
If you are having crab legs or something other than turkey, you can spread this into a medium sized casserole dish and cook till the top is crusting-brown at 350 for about 30 minutes.

 We hope these Thanksgiving Crab Recipes help make your dinner one to be memorable and thankful!
Happy Thanksgiving, Crab Lover's!

Your turn! Tell us your favorite crab recipes that you use in your Thanksgiving dinners below....Inquiring minds want to know!...

Thanksgiving Crab Recipes       Crab Meat Recipes      Crab Salad Recipes   Crab Appetizers