Mothers Day Crab Recipes
Because She's Worth It!

These Mothers Day crab recipes will give you some ideas on how to "thank Mom" on her special day in a special way. 
Being a "Mom" myself (of 3) I have put together some of the very best crab recipes that I've made. With this said, if your mom likes/loves crab like I do, I can pretty much guarantee that she will be extra appreciative if you make one or more of these dishes.
In my honest opinion, as a mother, I would rather my children cook for me than take me out! Why? Revenge, of course! After all the breakfast, lunches, and dinners I've cooked for them, they could, at the very least, on Mother's Day, cook and clean up for me! That's just the way I am!
With this...where's the "love" in taking me out? Someone else waits on us and someone else does all the clean up? Way too easy! The love (again, in my opinion) is being asked over to their house and having them cook for me. (Or, they could even come to mine, as they have done, but, also, do the clean up!) And not just anything...they know I love crab, so, without further ado, any of these Mothers Day crab recipes would suffice me, I have no doubt your mother will appreciate it as well!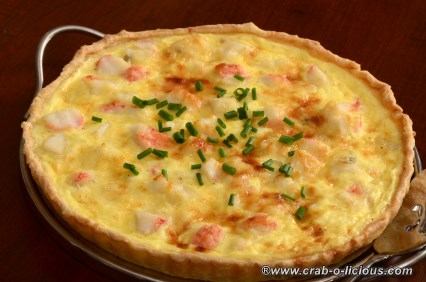 Crab Quiche
is an excellent starter for the day! You could even put this together the night before and chill it over night, pop it in the oven before she gets up and surprise her first thing in the morning!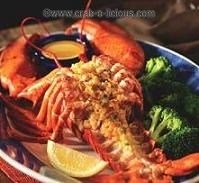 Crab Stuffed Lobster
is quite a chore, but says, "I love you, Mom" and she'll know it with all the work you'll be putting into it as well as the money it will cost. But it will still be cheaper and make her proud that you spent so much, but also saved a whole lot more by making it yourself!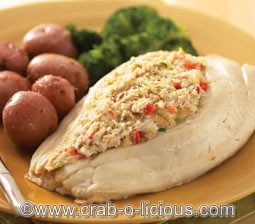 Crab stuffed recipes, like this
Crab Stuffed Flounder Recipe
is a seafood paradise to a seafood loving Mother! This Mothers Day crab recipe will pair well with potatoes, rice pilaf, or even just a nice salad and she'll be in seafood heaven all day long!
This is a favorite for a Mother's Day crab recipe. This
Crab Stuffed Portabella
recipe has quite a story. I never was much of a mushroom eater until I tried this. I wanted to make it for my husband as he LOVES mushrooms and since I always nagged at my kids to "at least try it" on many occasions while they were growing up, I thought I would practice my preaching and give this a whirl. Needless to say, this recipe made a mushroom lover out of me!
Okay, no, this one may be my "favorite!" This
Crab Stuffed Shrimp
recipe takes a lot of preparing, but in the end...I can eat this all day long! My favorite dipping sauce is with a spicy peanut Thai sauce as you can see, but it really doesn't need any sauce at all. Crab and shrimp just go well together on their own and you can use whatever sauces your mom loves best! Always put the sauce on the side, maybe even a few different sauces and let mom explore!
I can't think of any "Mothers" who don't like lasagna, can you? However, I can't imagine a marinara crab sauce!?? Just don't sound like they would go hand in hand, so I went crazy one day when I stumbled on this
Crab Lasagna with white sauce!
Oh yes! The leftover's (if any) are just as good as made with a marinara sauce and hamburger!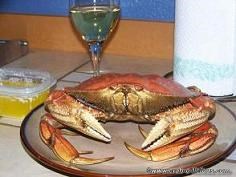 If you are stumped for time, but wanting to cook up Mother's Day crab recipes quick and easy, there is no thumbs down at all to just cooking her up some crab legs and add a little container of melted butter and pair it with a nice glass of wine (if she likes wine). Remember, it's all about loving Mom!
Have a wonderful Mother's Day!

Back to the top of Mothers Day Crab Recipes